Skrevet den 15. mar, 2012 by Ulrik Hansen (admin) in Anmeldelse, iPad 3
Så er det i morgen at der begynder at dumpe iPads ind af glade Amerikaneres (og i hvertfald én dansker jeg kender i London) brevsprækker, eller folk bruger mange timer af dagen på at stå i kø og vente.
Butikkerne åbner kl 8 om morgenen, men køerne er allerede startet rundt omkring. I morgen vil jeg prøve at poste en række links til sjove historier, videoer og rapportagermfra dagen rundt omkring i verden, samt prøve at få en hurtig vurdering op fra en hands-on erfaring.
Det betyder at de heldige anmeldere der har fået en anmelder-iPad, er begyndt at poste deres meninger på forskellige blogs rundt omkring på nettet. Jeg linker til dem efterhånden som jeg falder over dem i løbet af i dag og i morgen.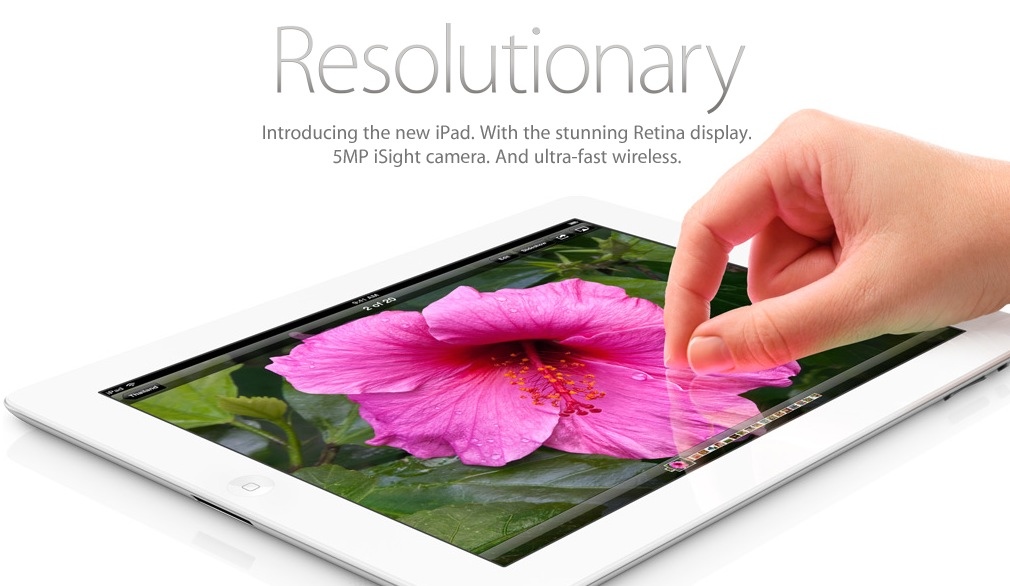 John Gruber | Daring Fireball • iPad (3)
The retina display is amazing, everything in the UI feels faster, and the price points remain the same. What's not to love? It's that simple.
Jim Dalrymple | The Loop • Review: iPad third generation
So, what did I like about the iPad? Simple — the experience. Nobody in the market today can touch the Apple experience.
Walt Mossberg | Wall Street Journal • New iPad: A million more pixels than HDTV
Since it launched in 2010, the iPad has been the best tablet on the planet. With the new, third-generation model, it still holds that crown.
Joshua Topolsky | The Verge • iPad review (2012)
Minor gripes aside, the iPad remains best in breed when it comes to design and materials. Other tablets may have more ports or larger screens, but few can match the elegance, sleekness, or solidness of this device.
MG Siegler | TechCrunch • The new iPad
Technology is amazing, and this new iPad is amazing. Also amazing: the only company competing with Apple right now in this particular space is Apple.
Vincent Nguyen | Slashgear • New iPad Review (3rd Gen)
Steve Jobs would have approved of the new iPad. With its focus on the holistic experience rather than individual boasts around its constituent parts, it's the epitome of the Post-PC world the Apple founder envisaged. No lag or delay; no frustrating cloud settings or arcane minimum software requirements. Simply pick up, swipe, and you're immersed in a joined-up ecosystem. Apple doesn't need another revolution, it has already started one, and the new iPad brings a fresh degree of refinement to a segment in which it is undoubtedly the king.
David Pogue | New York Times • New iPad: A polishing of the old
The new iPad doesn't introduce anything that we haven't seen before, either in the iPhone or in rival tablets. There's no Steve Jobs "one more thing" moment here; Apple just took its white-hot iPad and added the latest screen, battery and cellular technologies.
Jason Snell | Macworld • Review: The third-generation iPad
The new iPad is just that: The iPad, updated for a new year and millions of new iPad users. It's not smaller or lighter, but it's got a remarkable screen, a much better rear camera, and support for cellular networking that can run at Wi-Fi speeds. It's the iPad that millions of people have embraced, only one year better.
Rich Jaroslovsky | Bloomberg • iPad maintains Apple's Lead
It isn't that the new iPad lacks impressive features –most notably, a vastly better display and an ultra-fast Internet- connection option. It's just that it seems designed to maintain Apple (AAPL)'s huge lead in the tablet wars, rather than to extend it.
Smid gerne flere links i kommentarerne hvis I finder dem.